Hennessey has posted a video on social media showing its new 1,792bhp twin-turbo V8 Venom F5 hypercar screaming down a runway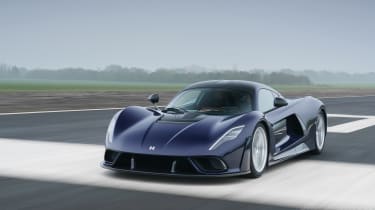 Hennessey has released a video of its new 1,792bhp Venom F5 hypercar undergoing high-speed testing on a runway. The new footage has been published ahead of the car's scheduled run at the NASA Kennedy Space Centre later this year, where Hennessey will aim to verify the F5's claimed 311mph top speed.
Featured below, the video clip shows the Hennessey Venom F5 shifting up through its gearbox on a high-speed run. Thanks to a handy camera mounted on the rear bumper, we also now know that the hypercar will spit flames on each full throttle upshift.
What is the fastest production car in the world?
The Hennessey Venom F5 has been designed to rival the likes of the Koenigsegg Regera and the Bugatti Chiron SuperSport. Production will be limited to just 24 units, with each carrying a starting price of $2.1 million (around £1.5 million). But, despite that eye-watering figure, all 24 cars have already been snapped up by wealthy hypercar fans.
If you look at the Venom F5's claimed figures, though, you can understand their enthusiasm. It costs half of the £3.1 million Bugatti, but it produces a Chiron-humbling 1,792bhp and 1,617Nm of torque – enough, says Hennessey, for a 0-62mph time of 2.6 seconds.
Even more impressively, the firm also says the F5 will cover the 0-186mph sprint in 8.4 seconds, which is quicker than a Formula One racer. Dry, the Venom weighs 1,360kg, which gives the car a claimed power-to-weight ratio of 1,322bhp per tonne.
Venom F5 Roars During High-Speed Testing pic.twitter.com/2th0xrktNT
Power comes from a twin-turbocharged 6.6-litre V8 engine, which Hennessey designed and built completely in-house. The engines are constructed using high-strength, lightweight components, including forged aluminium pistons, forged steel connecting rods, titanium exhaust manifolds and a billet aluminium intake manifold.
New Hennessey Venom F5: chassis and aerodynamics
Unlike most incredibly powerful hypercars, the Venom does without four-wheel drive. Instead, power is sent through a seven-speed automatic gearbox to the rear wheels only, while Hennessey has also placed a heavy focus on aerodynamics to help achieve its performance goals.
Up front there's a deep front splitter and broad ducting, which channels air underneath the car's chassis towards an enormous rear diffuser. There's also a tiny spoiler mounted between the rear lights, although buyers can spec a larger rear wing and a more aggressive front splitter as optional extras.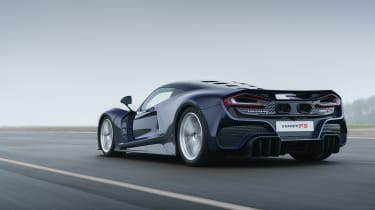 The Venom F5 is built around a carbon fibre monocoque, which weighs just 86kg. All of the hypercar's body panels are also made from carbon fibre, with the bodywork designed to be as sleek as possible to allow the car to reach the firm's targeted top speed. Thanks to the low-level spoiler and undertray, the F5 has a claimed drag coefficient of 0.39Cd.
Underneath, the F5 features double wishbone suspension and specially designed coilover dampers from Penske. Carbon ceramic brakes also come as standard, with discs supplied by Brembo and calipers by AP racing. Finally, the Venom sits on a set of forged aluminium alloy wheels, shod in Michelin Pilot Sport Cup 2 tyres.
Buyers will also get a choice of five different drive modes – Sport, Track, Drag, Wet and F5. The first four options alter the car's traction control settings and engine map to suit their respective scenarios, while the latter option unlocks the engine's full potential and allows the Venom to reach its top speed.
New Hennessey Venom F5: interior design
To help keep the Venom F5's weight to a minimum, Hennessey clad the car's entire cockpit in raw carbon fibre. For the same reason, even the car's door pulls have been moulded from the same lightweight material; only the parts of the steering wheel that the driver holds are finished in leather.
The steering wheel is a Formula One-inspired unit, which features controls for the F5's lights, wipers, ignition and indicators. Behind the wheel sits a seven-inch digital instrument cluster, which Hennessey says was inspired by the head-up display screens fitted to fighter jets. The unit has a specific display for each of the car's drive modes.
However, there are a few luxury touches. The carbon fibre bucket seats and door panels are upholstered in a blend of leather and Alcantara, while creature comforts include air-conditioning and a nine-inch infotainment system with support for Apple CarPlay and Android Auto.
The aluminium pedals are floor-hinged, while there's a toolkit mounted in the passenger footwell. As a nod to its American heritage, each Venom F5's door cards will also feature enamel inserts that depict the Texas and US flags.
Do you think Hennessey will officially claim the 'world's fastest production car' record with its upcoming re-run? Let us know in the comments section below…
Source: Read Full Article