MG 6 gets wild makeover and hints at return of high performance offerings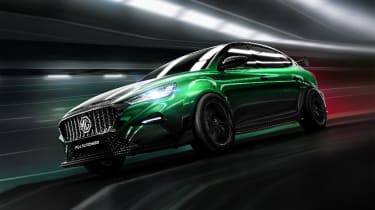 MG has revealed images of a new performance variant of the MG 6 saloon, which wears the XPower name last used on the V8-powered XPower SV sports car produced between 2003-2005. 
The MG 6 XPower is based on the second-generation version of the brand's compact saloon, though it won't be heading to Britain – MG pulled the model from UK showrooms in 2016 after slow sales of the first-generation car. 
New Alfa Romeo Giulia GTAm 2021 review
A small selection of images reveal a highly aggressive makeover for the MG 6 XPower. The front end features new bonnet vents and a chin spoiler, while the car also sports a huge rear wing, wildly flared wheel arches and a wider track, plus an intricate rear diffuser. 
It's finished in two-tone black and British Racing Green, while the interior gets some racier touches too. 
A recent facelift for the MG 6 introduced a 1.5-litre four-cylinder turbocharged petrol engine developing up to 179bhp and 285Nm torque. A quad-exit exhaust system hints at a new powertrain, but nothing has been revealed about what lies under the bonnet of the MG 6 XPower. Based on the interior shots, we can see that the car uses an automatic transmission.
MG has not revealed if the MG 6 XPower is a one-off or in fact a performance model intended for sale in China. However, the brand will look to offer exciting all-electric vehicles in the future, beginning with a production version of the E-Motion coupe and potentially a road-ready version of the new Cyberster roadster, revealed at the Shanghai Motor Show earlier this year in April. 
What do you think of MG'ss new sporty saloon? Let us know in the comments below…
Source: Read Full Article