The new Dacia Jogger Hybrid 140 is an impressive first electrified model from the budget-focused brand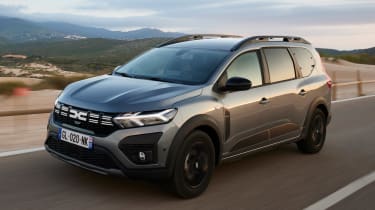 4.5 out of 5
Buy used for less at Buyacar
Verdict
Dacia's first hybrid model is a resounding success. The Jogger Hybrid 140 offers enough performance – the electric motor helping here – with superb real-world efficiency potential that doesn't come at the expense of practicality. The Jogger Hybrid is comfortable too, and well kitted out given the price – no full hybrid car on sale today is quite this affordable. However, the regular petrol Jogger is cheaper still, and at a time when motoring budgets are being squeezed more than ever, it could look even more enticing for some. But as a statement of how the brand will approach electrification, what Dacia has achieved with the Jogger Hybrid is impressive.
It might seem like Dacia is behind the electrification curve given that the value brand is only just launching its first hybrid model. However, the key to it is that word: value. Oh, and don't forget Dacia also makes the Spring – a small EV for the urban jungle – for the European market.
To keep costs affordable for its buyers Dacia has only turned to petrol-electric propulsion when the tech is at a level that it deems affordable enough, having inherited the Jogger Hybrid 140's powertrain from sister firm Renault and optimised it here.
Top 10 best 7-seater cars to buy 2023

With prices starting from £22,595 for the base-level Expression car and rising to £23,395 (only two trims are available on the Hybrid, unlike the petrol model) Dacia reckons there's no competitor for the Jogger Hybrid. A quick look suggests it's right, too.

More reviews

Car group tests

New Dacia Jogger vs used Kia Sorento: 2022 twin test review

In-depth reviews

Long-term tests

Dacia Jogger: long-term test review

Road tests

New Dacia Jogger 2022 review

If you want a full-hybrid seven-seat SUV you're looking at £40,000 from the likes of Hyundai. There's the Toyota Corolla Touring Sports from £31,545, but then it only offers five seats and therefore nowhere near the level of flexibility on offer here.

The tried and tested Renault tech comprises a 1.6-litre petrol engine, which is complimented by a 1.2kWh battery and a pair of electric motors – one a traction motor that allows the Jogger to drive in electric mode (up to 80 per cent of the time in town, Dacia says, and at up to 43mph), the other a starter-generator that fires up the petrol engine and can charge the battery via the 1.6 unit on the move.

The e-motors are integrated in a multi-modal automatic gearbox, which drives the front wheels. Not that it's the biggest concern here, but the 0-62mph time stands at 10.1 seconds. What's of more interest is the Jogger's claimed fuel consumption of 56.5mpg. It's a strong number and 7.8mpg more than the pure-petrol model, but we managed to exceed this on our test and the trip was showing close to 70mpg.

Driven in a relaxed way the Jogger Hybrid will respond with suitably impressive efficiency and relatively good refinement. The petrol engine kicks in to keep the state of charge at a strong enough level under normal cruising, with the electric motor doing a fair chunk of the propulsion.

When both electric and petrol are working in harmony you do notice a drone from under the bonnet, while our test car was prone to a resonant rattle from the engine compartment as well. But this slight lack of refinement only really becomes an issue when asking for acceleration up a steep hill, when the engine sounds strained. However, loaded up with seven people and luggage this could be more of a factor more of the time.

The powertrain is mostly smooth and the electric motor's bursts of extra torque help to finesse gear changes, as well as adding a useful extra shot of acceleration at low to medium speeds the moment you touch the accelerator. It's this assistance that helps around town, and the Jogger offers enough straight-line performance.

However, the braking feel from the regenerative set-up is inconsistent, with even light touches of the brake pedal sometimes initiating a jerky response from the brakes. There's an extra B mode for the transmission that forces more energy back into the battery when slowing down, but no matter what mode you're in, the Jogger's compact 1.2kWh unit recharges quickly.

The unit is mounted where an LPG-equipped Jogger's secondary tank is located, although we don't get this option in the UK; the battery takes up the space occupied by the spare wheel on ICE versions. It means there's pretty much no compromise compared with its pure-petrol counterpart when it comes to practicality, so you still get just enough legroom in the third row of seats, even if it isn't the easiest route to climb back there.

The second row is more spacious, offering plenty of leg and headroom, while boot space stands at 212 litres with all rows of seats in place, 699 litres in five-seat mode (with the third row folded, but it's as easy as ever to remove them completely), and a van-like 2,085 litres configured for maximum carrying capacity. The only drawback is the towing limit drops from 1,200kg, to 750kg for this Hybrid 140.

You don't notice the extra mass of the battery and the car handles with plenty of composure. The steering is a great weight given the Jogger's size, offering reassurance on twisty roads and ease of use in town – and that's what defines this car. It's so easy to drive, and easy to drive efficiently.

It's helped by a chassis that mostly smothers bumps well. The patchy tarmac on our Portuguese test route was a good approximation of the kind of bumpy back roads and rucked city streets we face in the UK, and while there's some noise from underneath the Dacia's chassis in how it deals with surface imperfections, the wheels never really thump back aggressively, although the ride can occasionally feel a touch bobbly on particularly bumpy roads.

Given the brief it's perfectly fit for purpose however, and feels settled and refined on the motorway. The Jogger delivers a good deal of comfort that some cars costing half as much again can't better.

All cars feature an eight-inch touchscreen system with Apple CarPlay and Android Auto, while Extreme SE models add built-in sat-nav. The unit also features a reversing camera on all models, while rear parking sensors are also included. A seven-inch digital dash is bespoke to the Hybrid 140 (not bad for the money, but it could offer a little more flexibility in its display), while cruise control, keyless entry and auto air-con are also included. Plus plenty of USB ports to keep your tech charged.

Extreme SE adds heated seats, black 16-inch alloy wheels and door mirrors, and subtle Extreme SE graphics. There's also the option of a new Shadow Grey paint colour that's only available on the Hybrid.

It's worth mentioning safety as Dacia has come in for some criticism on this front in the past, but the brand says that it only equips its cars with the kit it thinks buyers want and are essential for the market, so while the Jogger doesn't feature the latest advanced driver assistance tech, even the base Expression model features autonomous emergency braking, blind spot warning and six airbags.

If it's value you're after you can't argue with what the Jogger Hybrid offers, with a representative finance deal on the base car of £327 down and payments of £327 per month (four-year deal, 6k miles per year).

The efficiency potential is strong, undoubtedly, but returning back to Dacia's original claim that the Hybrid 140 has no competition, we're not so sure. In fact, the biggest rival comes from within in the form of the Jogger TCe 110 petrol, which is £4,150 cheaper trim-for-trim. It's not quite as frugal, but that cash saving will buy a lot of fuel (it's £275 per month with a £275 deposit on similar terms), but for those that need space for seven and spend plenty of time driving in town, the Jogger Hybrid 140 should fit the bill very well indeed.

| | |
| --- | --- |
| Model: | Dacia Jogger Hybrid 140 Extreme SE |
| Price:  | £23,395 |
| Engine:  | 1.6-litre 4cyl petrol hybrid |
| Power/torque:  | 138bhp/144Nm |
| Transmission:  | Multi-mode automatic, front-wheel drive |
| 0-62mph:  | 10.1 seconds |
| Top speed:  | 110mph |
| Economy/CO2:  | 56.5mpg/112g/km |
| On sale:  | Now |

Source: Read Full Article