The RWD version of the Kia EV6 impressed us, but can the AWD model do the same?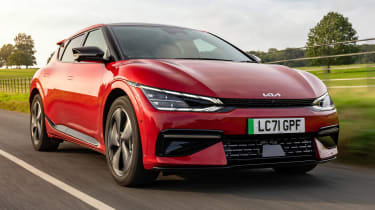 4.0 out of 5
Verdict
The Kia EV6 is a terrific electric car, but we're not convinced that it's worth spending the extra money on this dual-motor version. It's faster in a straight line but not really any more involving or capable on twistier roads – so you're left with a model that commands a price premium, while offering reduced range compared with the rear-drive edition. That's the EV6 we'd go for.
There was a time, not too long ago, when the idea of a Kia costing even £30,000 would have been hard to comprehend. But the Korean brand has matured greatly over the past decade, to the point where there is currently a very healthy order book for its Sorento large SUV – a car that could cost you more than £50k.
There's a sense of quiet confidence about Kia's new electric flagship, the EV6, breaking the same price barrier. EVs still cost more than their combustion-engined counterparts anyway, and the market is also very "green", with brand equity and image playing a lesser role. Perfect fodder, really, for a company like Kia, complete with the hi-tech backing of the Hyundai group.
New Kia EV6 2021 review

We were pretty impressed with the EV6 when we tried it in rear-wheel-drive form in the UK earlier this autumn. Now it's time to decide whether it's worth spending the extra money (not far off £10,000 more, in fact) for more power and performance with the four-wheel-drive variant.

More reviews

Road tests

The EV6, of course, sits on E-GMP, the same bespoke pure-electric platform as the Hyundai Ioniq 5 and Genesis's forthcoming GV60. That means 800V electrics, which equates to ultra-fast charging; there's some debate about the actual speed, but all you really need to know is that when it's hooked up to a 350kW charger, the EV6 can replenish 80 per cent of its 77.4kWh usable battery in just 18 minutes. We'd struggle to drink a nuclear Costa latte coffee in that amount of time.

The raw stats, of course, are shared with the rear-drive EV6. But this GT-Line S edition has a second electric motor on the front axle, boosting the total power and torque figures from 226bhp and 350Nm to a meaty 321bhp and 605Nm. The top speed remains at 114mph, but the 0-62mph time is now a punchy 5.2 seconds, a gain of more than two seconds over the rear-wheel-drive edition.

You can feel the difference, too; there's still not the sledgehammer delivery of force that you get in a Porsche Taycan; that will presumably come with a hilarious-sounding, 577bhp version of the EV6 that's due in 2022. But there is more urgency about the full-size, five-seat crossover in this format; let's call it genuine shove to match the instant electric torque delivery.

In a straight line, then, the GT-Line S AWD will certainly deliver that all-electric one-upmanship at traffic lights. Around the corners, though, the chassis – while still better tied down than the Ioniq 5's – is rather less happy with the increased potential. The system struggles to cope with the motors' responses, giving you an inconsistent delivery that makes it hard to drive smoothly.

And that's on wider routes with a perfect surface. Flick the EV6 into Sport mode on a bumpy, twisty back road and despite the decent body control, it becomes altogether unruly, to the point where it's not really much fun at all. At least the ride quality remains on the acceptable side of firm.

Elsewhere, the cruising experience is similar to that of the two-wheel-drive version, albeit with a teeny bit more electric whine because, well, you're closer to the front motor than you are to the rear.

And of course, the addition of that extra unit in a car with the same battery capacity means a reduction in range – from 328 miles down to around 300. Our experience suggests you'll get north of 290 miles without much compromise in your driving style, though, which is solid. Hyundai-Kia's battery-management algorithms remain among the best in the market.

Inside, there are a few harder plastics but the overall finish is excellent, and the technology fitted is right up there with the best in class. There's a pair of 12.3-inch curved displays, accommodating digital instruments and then a slick, responsive infotainment system.

The cabin itself has room for five adults, albeit with slightly reduced headroom in the rear compared with the Ioniq 5 – a trade-off, certainly, for the EV6's more coupe-esque roofline. The boot capacity is 490 litres – more than enough for a family's everyday needs – and you can alter the floor height. There's also a "frunk", a plastic storage box under the bonnet, but the additional motor cuts its capacity on this model to 20 litres, compared with the 50 litres on offer in the rear-drive edition of the Kia EV.

| | |
| --- | --- |
| Model: | Kia EV6 GT-Line S 77.4kWh AWD |
| Price: | £51,945 |
| Motor/battery: | 2 x e-motor, 77.4kWh |
| Power/torque: | 321bhp/605Nm |
| Transmission: | Single-speed automatic, four-wheel drive  |
| 0-62mph: | 5.2 seconds |
| Top speed: | 114mph |
| Range: | 300 miles |
| Max charging: | 350kW (0-80% in 18min) |
| On sale: | Now |

Source: Read Full Article