We get behind the wheel of the new Lexus RZ 450e to see if it's a serious player in the electric SUV sector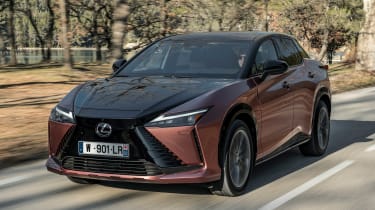 4.0 out of 5
Verdict
The RZ is a useful addition to Lexus's line-up, without really doing anything to set the electric SUV market alight, or offering much in the way of driving engagement for thrill-seekers. It's extremely refined, comfortable (especially on the top-spec car's more advanced suspension) and should deliver enough real-world range for most. Factor in Lexus's traditional strength when it comes to customer service and aftersales, and the RZ should find plenty of buyers after a premium EV experience.
Lexus is pushing ahead with electrification, and then some. Toyota's premium brand will lead the group's push towards zero-emissions motoring, and its UK division hopes to be one of the first to go completely petrol-free, by 2030.
The new RZ has been designed to lead that charge, pushing Lexus into a fresh area of the market where it can attract brand-new buyers (and bring back those who have gone elsewhere in search of greener credentials than hybrid), and nudge annual UK sales from around 15,000 units to more than 20,000.
Best electric SUVs to buy now

Things look promising enough on paper. The RZ uses the e-TNGA platform for EVs and is 4.8 metres long, so somewhere between the NX and RX models, and slightly longer than one of its key rivals, the BMW iX3. With no engine to worry about, there's a flat floor and a wheelbase of 2,850mm, only very slightly shorter than the BMW's. We're not here to judge its looks, but it's an evolution of typical Lexus fare, with sharp headlights and some complex surfacing on its flanks.

There's a single powertrain set-up, with a 201bhp motor at the front and a 107bhp unit at the rear, delivering a total of 308bhp. The battery capacity is a net 64kWh, which looks relatively modest in the class, but Lexus hopes it has found the right balance between delivering enough range and chasing its own tail on the ever-increasing physical size and weight of the battery.

How many miles the RZ 450e can go between charges will depend on which spec you choose, and its wheel size. We're driving the flagship Takumi here, which is loaded with kit and on 20-inch wheels; it has an official range of 246 miles. Opt for the entry-level Premium on 18-inch alloys and you'll have, in theory at least, a range of up to 273 miles. All versions get features such as a heat pump and 11kW three-phase AC charging as standard, along with 150kW DC charging that can take the battery from 10 to 80 per cent in around half an hour.

The UK line-up will start with Premium, from £62,600 and fitted with leather upholstery, Lexus's 14-inch touchscreen infotainment system, a heated steering wheel, a panoramic glass roof, metallic paint and a wireless smartphone charger. Premium Plus, from £66,600, steps up to 20-inch wheels and adds front radiant heating (a more efficient way of warming occupants than regular ventilation, Lexus claims), a head-up display and automatic/remote parking.

Takumi spec costs from £72,100 and has 64-colour ambient lighting, premium fabric upholstery, a dimming function for the glass roof, a Mark Levinson stereo and what Lexus calls Performance Suspension – a fancy way of saying frequency-selective damping.

Much of these underpinnings are shared with Toyota's bZ4X, but Lexus believes that a few key features, including a radical steer-by-wire set-up that won't arrive until 2025 at the earliest, will give it a USP over its mainstream stablemate. If you're buying a car now, the chief appeal (posher cabin aside) may well be Direct4, which uses a range of inputs (G-force, wheel speed, throttle position and so forth) to deliver power to the front wheels, the rears, or a varying combination, as required.

Lexus claims it adjusts the amount of drive, front to rear, for everything from standing-start acceleration to corner turn-in, aiming to improve stability and minimise the amount of fore and aft pitch.

In practice, the experience isn't quite as dramatic – or impressive – as the tech seems to promise. The overall chassis set-up includes some pretty firm damping – designed, no doubt, to help keep the 2.1-tonne RZ tied down effectively in corners. And on many surfaces it works – more so, we'd argue, on the Takumi suspension than on the lesser models' conventional set-up. But there's still a fair amount of road patter fed up through the large wheels.

Direct4 compounds this fidgeting, in a way; it's true that the RZ does stay pretty flat in corners and the system dialling drive away from the front wheels helps to deliver pretty crisp turn-in from steering that is otherwise a little slow to weight up.

But the constant adjustments in the power split mean that the RZ struggles to settle down to a relaxed cruise on occasions; you'll feel a bit of corkscrewing from the rear end, although again, it's more composed overall on the more sophisticated dampers fitted to the top-of-the-range Takumi model.

That 2.1-tonne kerbweight – which sounds positively svelte in an era where a fully laden large electric SUV can weigh a couple of hundred kilos north of that – is not too much of an issue for the powertrain. There's commendable shove in all of the car's regular modes – Normal, Sport and Eco – and even if you choose Range, which blunts performance, turns the air-con off and lowers the top speed, you can override these limitations if you push hard enough on the accelerator pedal.

It's refined, too; there's a bit of tyre roar from the large wheels but, perhaps as a result of Direct4's tendency to shift drive to the rear under hard acceleration, you're unlikely to be troubled by much electric-motor whine. Lexus's engineers have also done a good job of dialling out wind rush at higher speeds, making the RZ an extremely hushed fast cruiser.

What's missing, sadly, is any discernible spark of involvement. Perhaps it's too much to expect in an electric SUV, especially one from a brand whose 'three C' guidelines are Confidence, Control and Comfort. But given that the RZ is one of the first Lexus models to have been tested at the firm's new HQ in Shimoyama, which includes a circuit replicating stretches of the Nürburgring, we'd hoped for a little more fun. Suffice to say that Direct4 seems set up to smooth out the driving experience, rather than elevating any of the emotions involved in it.

Still, the cabin feels nicely built, in typical Lexus fashion, albeit with materials that are smart rather than out-and-out luxurious; pricing aside, this is a mid-range model, after all, not an alternative to the opulent LS. The infotainment system is every bit as strong here as it is in the NX (and light years beyond what Lexus was offering barely 18 months ago), although it's a shame that there's no glovebox (it makes way for the front passenger's radiant heater).

The rear cabin is spacious for two grown-ups, and even a third occupant shouldn't complain too much, thanks to the flat floor. The boot is a decent size too, at 522 litres, or 1,451 litres with the back row folded down. There's no 'frunk' to speak off – blame the vertically mounted front power unit for that – but there is some storage for charging cables under the boot floor.

Lexus is aiming to transfer its reputation for customer care and reliability directly to its electric models, so the RZ comes with the same 10-year warranty (assuming you get your car serviced at an official dealer). The firm says that by the end of this time period, the battery should still have retained at least 90 per cent of its capacity.

| | |
| --- | --- |
| Model: | Lexus RZ 450e Takumi |
| Price: | £72,100 |
| Powertrain: | 64kWh battery/2x e-motors |
| Power/torque: | 308bhp/435Nm |
| Transmission: | Single-speed automatic, four-wheel drive  |
| 0-62mph: | 5.6 seconds |
| Top speed: | 99mph |
| Range: | 246 miles |
| Charging: | 150kW (10-80% in 30mins) |
| On sale: | Now |

Source: Read Full Article