The plug-in hybrid Renault Megane E-Tech hatch joins the estate as the model progresses towards full-EV capability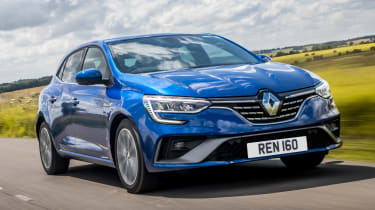 3.5 out of 5
Buy used for less at Buyacar
Verdict
The Renault Megane E-Tech's plug-in tech cuts it in the class. It isn't unflappable, but it's refined at a cruise and clever enough to use its battery efficiently when left to its own devices. A BiK rate of just 11 per cent will appeal to company car buyers, too. But while the car is mostly comfortable and reasonably spacious, its cabin feels dated next to, say, the Octavia iV's.
Renault's push towards electrifying its range is resulting in some slightly odd launch schedules. Its Megane Sport Tourer estate got a plug-in hybrid before the end of 2020 and yet only now, eight months later, do we get the same set-up in the bigger-selling hatchback.
Even so, with all of the mainstream VW Group models having PHEV versions, and the next-generation Vauxhall Astra and Peugeot 308 also set to offer plug-in power, now feels like a good time for this Megane to benefit from this higher level of electrification. Or it would, were an all-new, pure-electric crossover with the same E-Tech nameplate not waiting in the wings, ready to be launched in early 2022.
Best plug-in hybrids 2021

There is nothing about this Megane's layout that screams "stop gap", mind you. On paper, at least, it's a perfectly sensible solution because the powertrain mixes a 1.6-litre petrol engine with a 64bhp electric motor for a combined output of 158bhp, and there's a 9.8kWh battery that can deliver up to 30 miles of pure-electric range. Don't expect fast charging – the onboard system runs only at up to 3.6kW – but that modest capacity allows a three-hour full charge.

The drive is very similar to that of the Sport Tourer we tried last December. The hybrid system works well in town, using the motor's 205Nm to pull away smoothly and briskly, with only a faint whine. Factor in the light steering and comfortable low-speed ride, and you can easily see how this car, running in EV mode, would feel perfectly acceptable on short journeys.

More reviews

Car group tests

MINI JCW GP vs Renault Megane R.S.
Porsche 718 Cayman GT4 vs Renault Megane R.S. Trophy-R

In-depth reviews

Long-term tests

Renault Megane RS 300 Trophy: long-term test review

Road tests

New Renault Megane R.S. 300 Trophy 2021 review
New Renault Megane 2021 review
New Renault Megane Sport Tourer E-Tech PHEV 2020 review

Longer trips are a tougher test for a plug-in hybrid, of course, and the Megane's performance is a little more patchy here. It's still just about quick enough (although never rapid), but the complex clutchless six-speed auto box can sometimes trip over the transition between electric drive and the combustion engine. You'll feel a jerk in your momentum, or even a momentary pause in power delivery.

It's a shame, in a way, because outside of those handover points the system is solid enough; the petrol engine is smooth and generally quiet unless under hard acceleration. It's clever when it comes to managing its battery, too. You can flick between modes to increase brake-energy recuperation, boost performance, or hold the charge level, but leave it in Hybrid and the car resists the temptation to just burn through its battery by running in EV mode when it really shouldn't.

On a two-hour test route through towns, on deserted A-roads and including a bit of dual carriageway, we just about fully depleted the battery – but the car had returned over 90mpg getting to that point.

The hybrid weighs around a quarter of a tonne more than the conventional Megane, and you feel this in the chassis. In general it prevents the extra bulk from causing a lumpy ride, but although the additional mass is mounted low down, on the whole the car is still not quite as happy with quick changes of direction as a regular model. The same could be said for many of the E-Tech's plug-in rivals, of course.

Inside, there's no disguising that this is a facelifted version of a car introduced in 2016. There are soft plastics in most of the right places, but the overall ambience is trumped by that of the Megane's smaller stablemates, the more modern Clio and Captur – and the likes of the Skoda Octavia and VW Golf are in a different league altogether.

The tech is worthy enough, with a digital instrument panel and, on this R.S. Line, a 9.3-inch portrait touchscreen (Iconic, the more modest trim level, gets a seven-inch set-up). It's reasonably quick to respond to inputs, but the interface is a little clunky and the on-screen graphics aren't ageing all that well.

At least there's a fair amount of space on board, with head and legroom for four six-footers. And while the boot area does take a hit in the PHEV, dropping from a hefty 473 litres to a mere 308 litres, this is still more than you'll find in a Golf GTE.

| | |
| --- | --- |
| Model: | Renault Megane R.S. Line E-Tech PHEV 160 |
| Price: | £31,495 |
| Engine: | 1.6-litre 4cyl & e-motor |
| Power: | 158bhp |
| Transmission: | Six-speed automatic, front-wheel drive  |
| 0-62mph: | 9.4 seconds |
| Top speed: | 109mph |
| Economy/CO2: | 234.5mpg/28g/km |
| EV range: | 30 miles |
| On sale: | Now |

Next Steps

Source: Read Full Article