The Hero Honda authorised service center says the exhaust systems of 2006 model Splendor plus bikes are no longer available. Not even the bend pipe.
BHPian NavBHP recently shared this with other enthusiasts.
Background info:
A bike slammed onto my bike's exhaust pipe, and the bend pipe cracked close to where the exhaust pipe enters the engine. The Hero Honda authorised showroom got it welded at a local welder for Rs.300. Around a year later, the weld came off, and a local mechanic got it welded from another welder for Rs.250. Today I found out it should've cost only Rs.100 or Rs.150.
This was the earlier weld: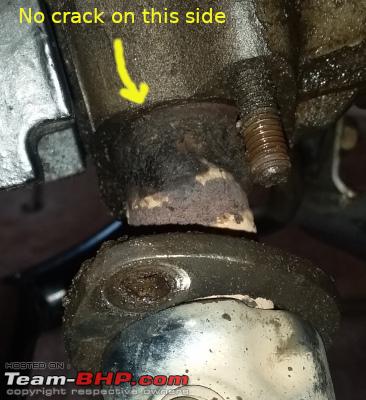 This is what the remaining part of the bend pipe looks like:
This is where it could be cut to attach a new bend pipe:

Problems:
Questions:
Here's what BHPian ebonho had to say on the matter:
NavBHP, you are in Bangalore, which at one time had a thriving 2 stroke drag racing scene. Find any half decent fabricator of 2 stroke expansion chambers and bend pipes. This will be a piece of cake for them, as all you need is a correct length collar welded on. Of uniform diameter (i.e. not even tapered). That would be your best bet for a neat job that will not break.

Cheers, Doc
Here's what BHPian condor had to say on the matter:
Catch hold of a mechanic – may be through a friend. They will have the means to find spares from scrapped bikes.

Ask around for references to good mechanics. That's the key part.

OTOH, if you are a walk-in customer, the mechanic will also see with you some lack of trust about your coming back for an item you ask him to find. In case you still do a walk-in, then look at the bikes they are working on – this will give you an idea.

Ex: if you were to search for work on a 2-stroker, then see if the shop has 2-strokes parked out side, and being worked on.
Here's what BHPian RD410 had to say on the matter:
OE chrome silencer for old Splendor plus is long discontinued, but that of Passion plus is very much still available. Part number is 18350KWAH10S and MRP is ₹1550. It is still listed on Hero's official online spares shop and any authorised Hero spares dealer can easily source it for you. Passion plus silencer is direct fit on Splendor. Both models have same silencer, the only difference is that Passion's muffler part has 2 brackets for installing a heat shield. Changing the full exhaust is the best option in my opinion. Welding the bend pipe is not much useful, it will leak again sooner or later.

Yours being a 2006 make, which means it's an original Honda spec AC ignition, low compression

Euro 2 Splendor, which Hero produced from 2000- 2012. This version of Splendor came with 2 types of silencers. From 2000-2009 it had stainless steel 'non-cat' silencer, which cost only ₹1.5k. This stainless steel exhaust has weak bend pipe and breakage is a common issue. Then for model year 2010-12, Hero updated it with black powder coated exhaust, which has a catalytic converter to comply with bs3 norms. Exhaust was the only change, rest everything was same. It is this black catcon exhaust that costs ₹4.5k (part no – 18350KWA940S). It has a thicker and much stronger bend pipe, which will never break. I can assure because I had a bs3 Hero Honda which I used for 1.5 lakh kms and the bend pipe was solid. You can fit the black catcon silencer on your 2006 Splendor, it will work completely fine. Exhaust note will become bassier and you may feel slight increase in low end torque. I do not recommend it only because the catcon exhaust is expensive. If you want the older stainless steel one, then any good scrap yard will offer you lots of used examples. But you will need to carefully choose and then further refurbishment would be required. Or you can look at third party, after-market ones from GCL, Zadon, etc. But they are of much lower quality.
Read BHPian comments for more insights and information.
Source: Read Full Article