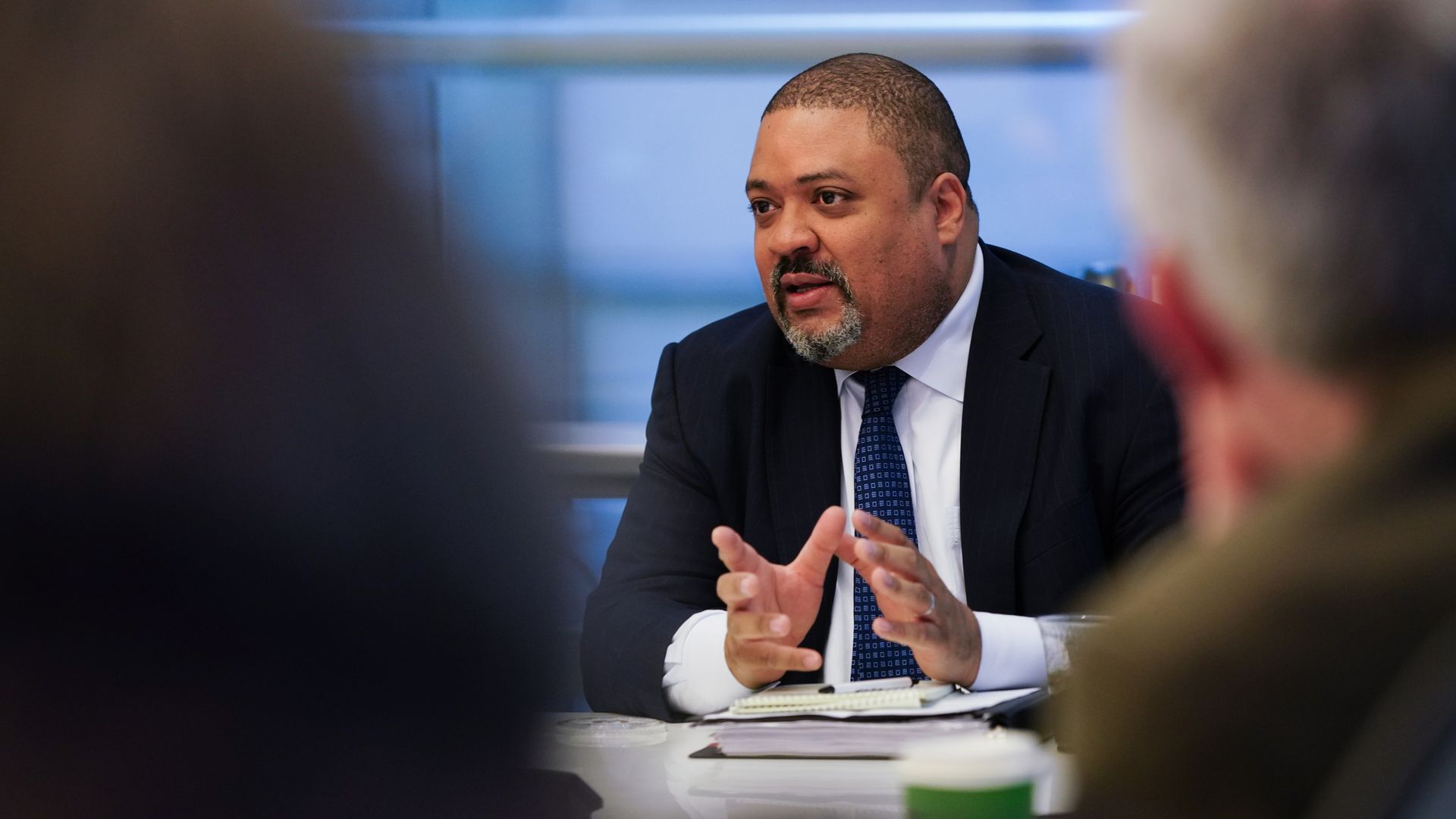 Alvin Bragg, Manhattan district attorney, speaks during an interview in New York on Dec. 15, 2022. Photo: Christopher Goodney/Bloomberg via Getty Images
Manhattan District Attorney Alvin Bragg is at the forefront of the potentially historic indictment of former President Trump over his alleged role in a hush money scheme.
The big picture: Bragg, a Democrat who became Manhattan's first Black district attorney in 2022, is steering the high-profile grand jury investigation over Trump's alleged $130,000 hush money payment during the 2016 presidential campaign to adult film star Stormy Daniels.
Trump over the weekend predicted he will be arrested this week as part of the probe and called for protests. While some top Republicans have defended Trump, they've discouraged protests or violence.
If he is indicted, Trump would become the first sitting or former U.S. president to be criminally charged.
Bragg's legal background
Bragg, 49, was elected in 2021 to be Manhattan's district attorney, beating out seven other Democrats. Bragg succeeded Cyrus Vance, a Democrat who in 2021 said he would not run for a fourth term.
A former state and federal prosecutor who grew up in Harlem,he centered his campaign for district attorney on a platform of balancing public safety and fairness for defendants.
The DA is tasked with prosecuting crimes in Manhattan and leads an office of more than 500 attorneys.
The prosecutor often oversees cases involving defendants "with immense wealth, fame and influence," AP notes.
Of note: Many of Bragg's highest-profile cases have so far involved the former president. Late last year, the Trump Organization was convicted over what prosecutors said was a 15-year scheme to defraud state and federal tax authorities.
In 2022, two of Bragg's top prosecutors investigating Trump's business practices resigned after Bragg expressed concern about the strength of evidence in their case, which Vance had previously determined was enough to indict Trump.
Bragg's role in a possible Trump indictment
Bragg inherited the years-long Trump probe from his predecessor. Vance in 2019 subpoenaed the Trump Organization for records related to the hush money payment.
The Manhattan district attorney's office earlier this month invited Trump to testify before a New York grand jury as part of the probe into the hush money payment, signaling that the ex-president could face criminal charges.
Grand juries, whose proceedings are closed to the public, have been criticized as being favorable to prosecutors.
Bragg in the national spotlight
Bragg has become the focus of Republican accusations that the prosecution was politically partisan, with House Republicans demanding his testimony in a newly launched investigation of his office's probe.
Florida Gov. Ron DeSantis (R), a potential 2024 presidential contender, broke his silence on the case this week and slammed Bragg as a "Soros-funded prosecutor," referring to indirect payments he's received from billionaire Democratic investor George Soros.
Democrats, meanwhile, have feared the New York case could be a political loser for them.
Bragg told his staff over the weekend — following Trump's call for protests over his possible arrest — that efforts to intimidate the district attorney's office would not be tolerated.
Go deeper… McCarthy orders probe of district attorney investigating Trump
Source: Read Full Article