A proposal that would standardize the definitions used in flight shopping could receive broad signoff from the industry in time for the new year.
The airline-owned data and tech company ATPCO views a next-generation storefront as one that features filtered shopping by flight service attributes and easily comparable, side-by-side search results.
"We want flyers to be able to shop for the products that they want," said Seth Anagnostis, ATPCO's director of content strategy. "You as a flyer should be able to say, 'Here are the things that matter to me.'"
But when definitions of flight attributes, such as in-flight entertainment or refundability, aren't aligned, it can cause confusion for consumers.
Under its Next Generation Storefront initiative, ATPCO is endeavoring to set clear and standardized definitions for attributes that shoppers might prioritize in a flight. 
ATPCO, which is the repository for traditional airline fare filing, has started by defining 16 flight attributes: priority boarding, lounge access, checked baggage, carry-on allowance, WiFi, entertainment, power, food, beverage, advance seat selection, all-aisle seat, seat pitch, seat type, seat width, advance change and refundability.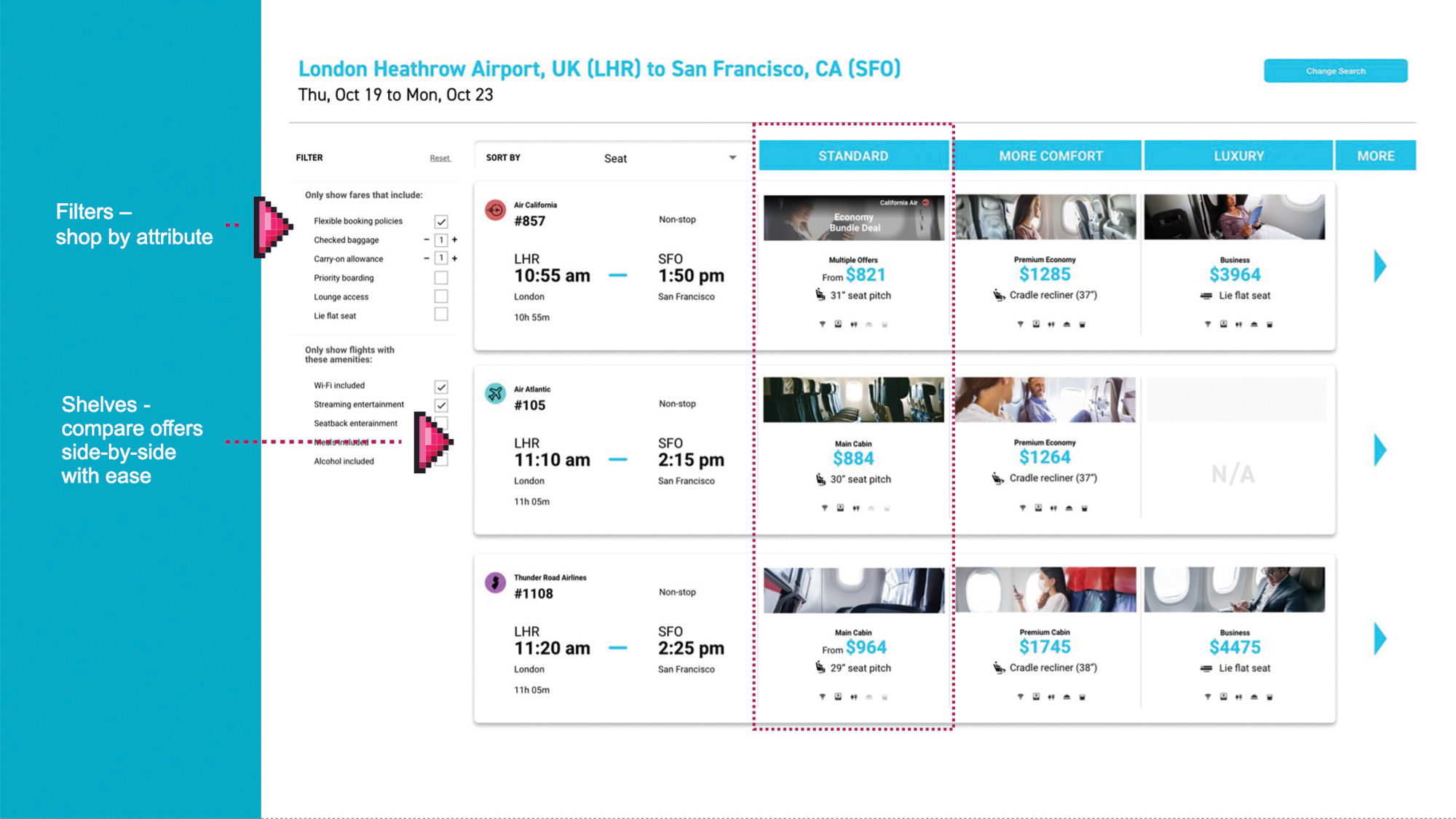 Those proposed definitions have been put forward for review to ATPCO's subscriber community of more than 400 airlines, GDSs, tech providers, OTAs, metasearch sites and corporate booking tools. 
Should they be approved by consensus, ATPCO expects to publish the definitions on Jan. 1, then set about the process of getting air product merchandisers to adopt them as they evolve their shopping interfaces. 
Flight shoppers would benefit from being able to rely on the accurate and consistent results to be brought about by the establishment of standardized attribute definitions, Anagnostis said. And standardization should also help the airline industry move toward the type of shopping model that has been successfully deployed by the lodging industry.
Someone could designate, for example, that they only want to see fare options for refundable flights that offer WiFi and a free carry-on.
The deployment of such filters also helps move flight searches away from the longtime standard of prioritizing low ticket prices over all other attributes.
Some booking engines — Anagnostis mentioned Kayak — have already built out robust filters.
The current iteration of the Next Generation Storefront initiative is actually a reboot of an ATPCO attempt to achieve industry consensus in its effort to develop standardized definitions and use them to create a prescriptive algorithm that stated how products should be compared to one another. 
The goal of that project had been to align search results across the industry so that like products, no matter how the airlines themselves defined their products in terms of fare class, would be grouped together. 
Sabre has subsequently deployed a similar concept within its Sabre Red interface, which it calls New Airline Storefront. But New Airline Storefront, which Sabre developed with assistance from Delta, quickly became the subject of a court challenge by American Airlines.
In the suit, American alleges that the Storefront biases Sabre search results toward Delta, citing as an example search results that align American's first-class Flagship First seats on a transcontinental flight with the business-class products of Delta and United. 
For ATPCO, the current iteration of the Next Generation Storefront initiative jettisons the prescriptive algorithm and turns its primary focus to defining flight attributes so that merchandizers can more easily deploy consistent search filters.
Source: Read Full Article