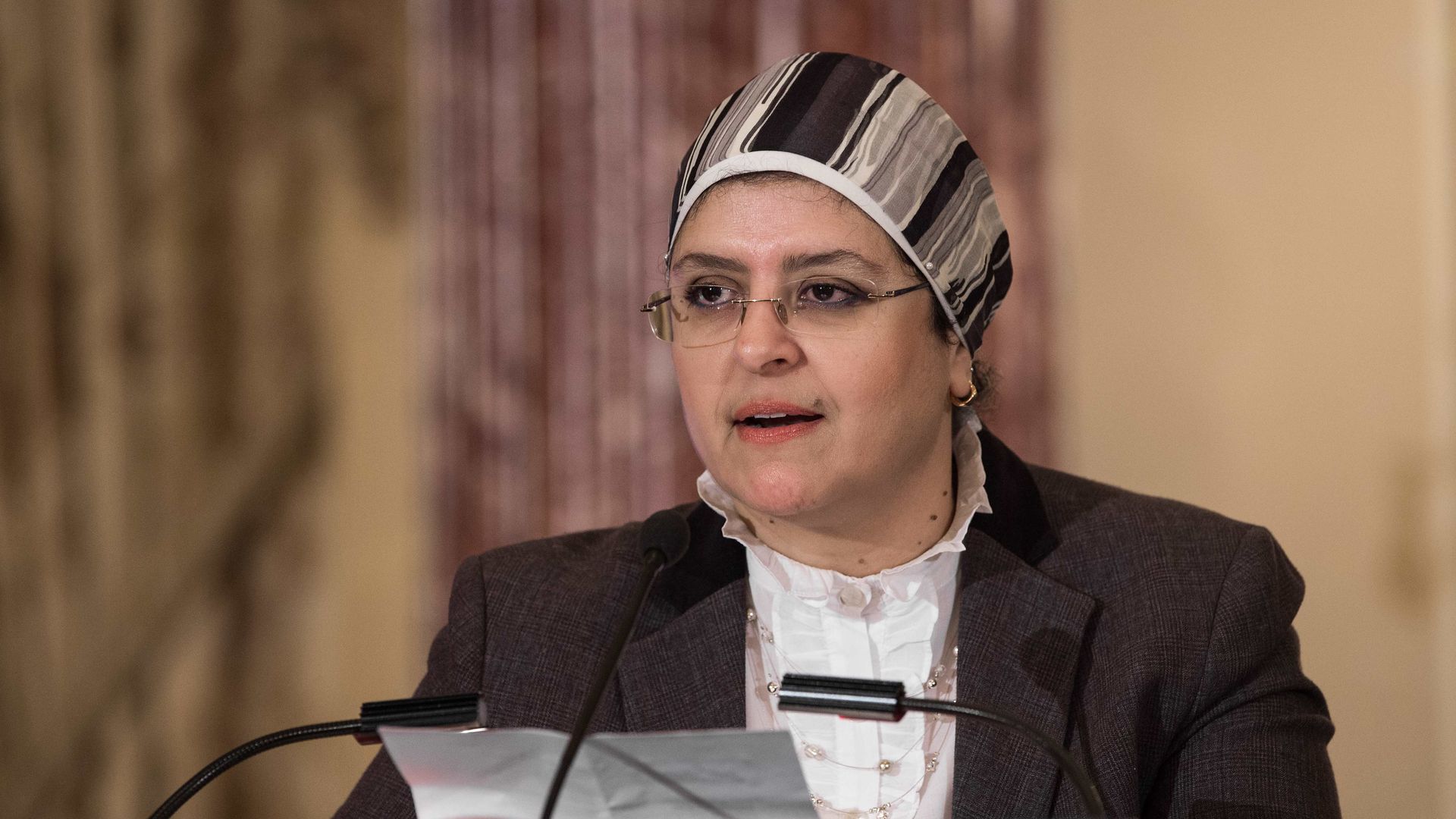 Egyptian entrepreneur Hanan Khalil speaks at a Goldman Sachs 10,000 Women program at the State Department in 2015. Photo: Nicholas Kamm/AFP via Getty Images
The Women Entrepreneurs Opportunity Facility (WEOF) — a partnership between Goldman Sachs 10,000 Women and the International Finance Corporation — on Wednesday will announce it has reached 164,000+ women entrepreneurs, eclipsing the target of 100,000 set at launch nine years ago.
Why it matters: The program tells Axios on International Women's Day that it has provided over $4.5 billion in loans via financial institutions to women-owned businesses.
"Working through 95 financial institutions, the first-of-its-kind finance facility has made more than 172,000 loans in 55 countries, … promoting an inclusive recovery from the COVID-19 pandemic," the announcement says.
"WEOF-participating financial institutions continue to report healthy growth and strong asset quality in their women-owned SME portfolios."
WEOF was launched in 2014 with funding from the Goldman Sachs Foundation.
David Solomon, Goldman Sachs chairman and CEO, says in a statement to Axios: "Through this innovative facility, we've helped tens of thousands of women business owners access capital so that they can grow their businesses, reach their potential and drive economic growth."
🇮🇳 Case in point: Dr. Seema Garg of India, who received funding through WEOF, had risen to become CEO of a 350-bed hospital and vice president of a petrochemical company.
But she longed to be her own boss — and launched SB Hospital and Healthcare Private Ltd., a company that designs, builds and renovates hospitals.
"My aim is that three years down the line," she says, "if someone is looking to build a hospital, they should call us."
This week is the 15th anniversary of the 10,000 Women in-person business education program, which has reached 200,000+ women in 150+ countries since launching in 2008.
Source: Read Full Article