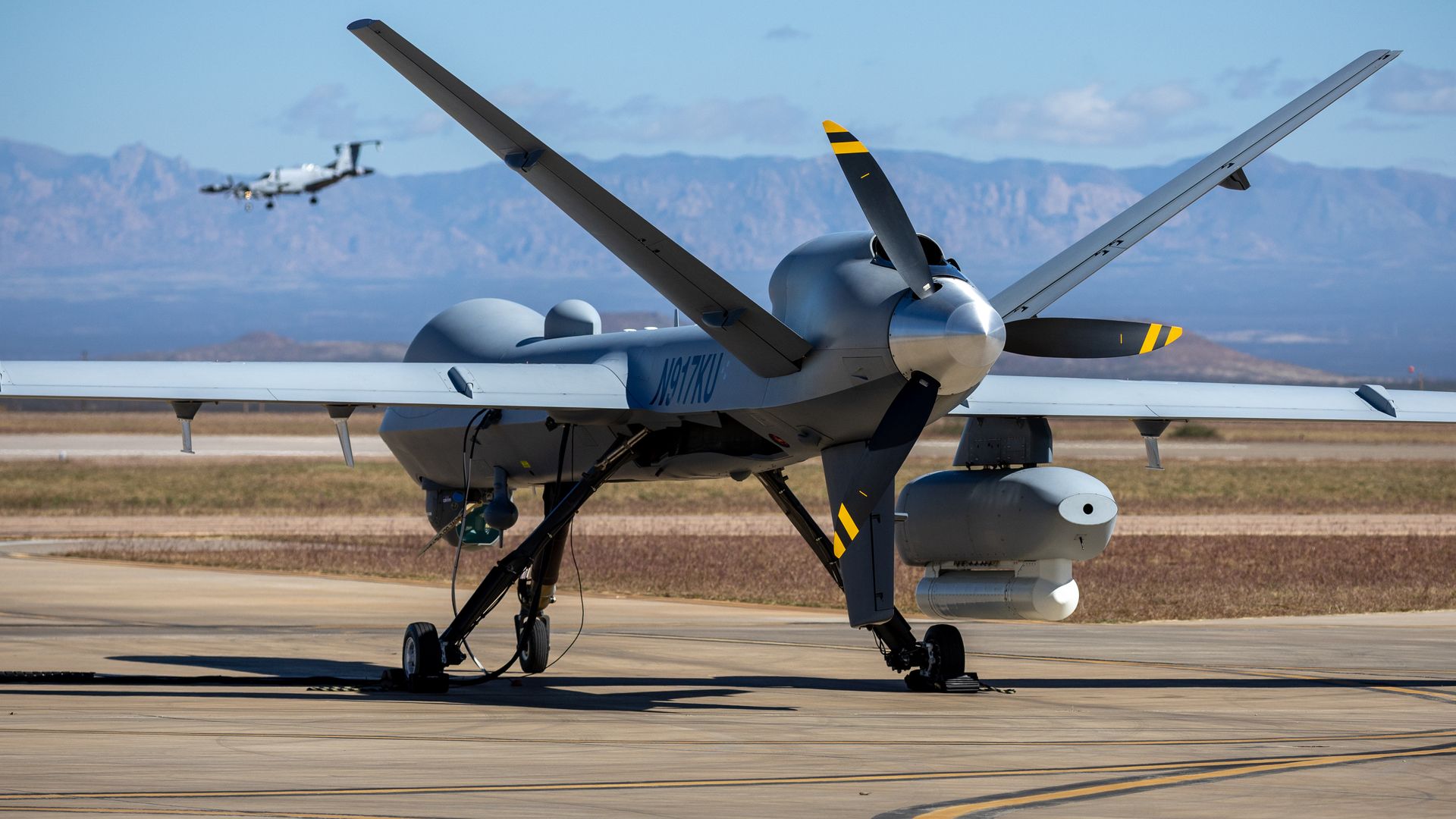 An MQ-9 Reaper drone in Fort Huachuca, Arizona in November 2022. Photo: John Moore/Getty Images
A Russian jet crashed into a U.S. drone above the Black Sea on Tuesday,forcing the U.S. to bring the drone down.
Driving the news: The incident is part of a "pattern of dangerous actions by Russian pilots while interacting with U.S. and Allied aircraft over international airspace," U.S. European Command said in a press release.
Zoom in: The collision occurred when one of two Russian Su-27 jets struck the propeller of the MQ-9 drone, resulting in a "complete loss" of the drone, U.S. Air Force Gen. James B. Hecker said in the press release.
Before the crash, the jets had "dumped fuel on and flew in front" the drone, in a manner the U.S. military described as "reckless, environmentally unsound and unprofessional."
The big picture: When asked about the collision at a press briefing Tuesday, National Security Council spokesperson John Kirby said President Biden had already been briefed on the matter.
Such intercepts between U.S. and Russian aircraft over the Black Sea are not uncommon, but Tuesday's collision was unique because of how "unsafe and unprofessional" it was, Kirby noted.
"I want to stress that this MQ-9 was operating in international airspace over international waters, and posed a threat to nobody," he said, adding that the incident would not deter the U.S. from operating in international airspace over the Black Sea.
State of play: The U.S. has been flying MQ-9 Reaper drones, which are capable of intelligence collection and surveillance, over the Black Sea since before Russia's invasion of Ukraine, CNN reported.
Russia did not immediately respond to news of the collision, though it has voiced concern about U.S. intelligence flights near the Crimean peninsula in the past, per AP.
Editor's note: This story has been updated to correct that just one jet collided with the drone.
Source: Read Full Article