Volvo's first-ever MPV sticks to the shadows in latest teasers ahead of November reveal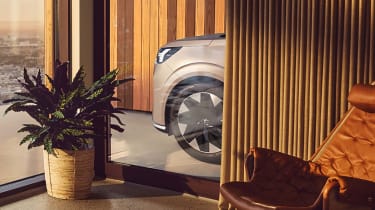 Volvo's UK lineup is composed exclusively of SUVs now, after it decided to discontinue its V60 and V90 estate cars, and their S60 and S90 saloon siblings. But that doesn't mean the Swedish firm only has eyes for SUVs, as it'll soon unveil its first-ever MPV.
The all-new Volvo EM90 will be revealed on 12th November, with Volvo claiming the fully electric luxury MPV will be like "a Scandinavian living room on the move". 
Volvo's brief teaser video for the EM90 certainly suggests the new Volvo will be a luxurious place to travel. The view through the panoramic glass roof shows there will be two individual middle-row seats, rather than a bench designed to squeeze in as many kids as possible. The position of the rear door handles alongside the front ones suggests the EM90 will have proper MPV-style sliding doors, though, for easy entry and exit.
Best people carriers and MPVs 2023
The latest images shared by Volvo on social media also suggest the EM90 will pinch one or two styling cues from the flagship seven-seat EX90 SUV. At the front will be a similar set of Volvo's signature 'Thor's hammer' headlights and flared body-coloured wheelarches, plus a proper bonnet, rather than the sloping nose of MPVs of old – which could provide enough for a small 'frunk' to boost luggage space.
The EM90 sticks to the shadows for the remaining images, but we can still see its blocky silhouette and the glow from an enormous set of split tail-lights that extends onto the tailgate. It appears the front end will also feature an illuminated Volvo badge.  
Volvo hasn't revealed any technical details yet, but the EM90 is expected to sit on the same platform as the Zeekr 009 – a luxury six-seater MPV sold in China. You might not have heard of the brand Zeekr before, but before both it and Volvo are owned by automotive giant Geely, so the two sharing tech makes sense. 
The Zeekr 009 uses two electric motors for all-wheel drive and 0-62mph in 4.5 seconds, and is powered by a gargantuan 140kWh battery that allows for a range of up to 511 miles on China's CLTC test cycle.
Order books for the Volvo EM90 are set to open on the same day it's unveiled, but only for customers in China. It's unclear whether or not Volvo's first MPV will come to the UK, but we wouldn't rule it out as the new Lexus LM MPV just launched here and has reportedly gone down a storm. A new Mercedes EQV is also heading our way in 2024, which would serve as a direct rival to the EM90, along with the Maxus Mifa 9.
Click here for our list of the best people carriers and MPVs on sale…
Source: Read Full Article